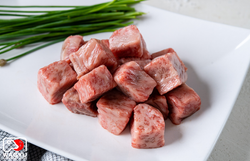 The Wagyu Shop
Olive Wagyu | A5 Wagyu Beef Sirloin Cubes (2 pcs)
Two (2) individually packed portions of A5 Sirloin Cubes.
Premium cut from the Sirloin.
Authentic A5 Graded Olive Wagyu imported from Japan.
Kagawa Prefecture.
Sanuki Wagyu.
Certificate of Authenticity is included with every order.
Each pack is hand cut and approximately 6 oz./ total 12 oz.
Japanese Black cattle (Kuroge).

Temperature controlled standard overnight shipping.

This product ships frozen.
Thawing is normal during shipment.
Product of Japan.

View 

Shipping Information

 and select your desired delivery date at checkout.
Exclusively known as "Olive Wagyu", the cattle produced in the mild climate of Shodoshima Island in Kagawa Prefecture is home to few, rare Sanuki Olive-Fed Wagyu. Raised on a special feed of dehydrated and roasted mulch of olives, this Wagyu has become famous for its higher levels of oleic acid, yellowed fat, and nutty taste. This rich flavor profile was awarded for fat quality in the 2017 Wagyu Olympics.