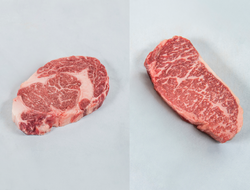 The Wagyu Shop
Natural American Wagyu Taster
Two (2) individually packaged steaks.
Each piece is approximately 12 oz. and 1" thick.
Natural American Wagyu from the best hand-selected farms across the US.
Raised without hormones and antibiotics.

Temperature controlled standard overnight shipping.

This product ships frozen.
Thawing is normal during shipment.
Product of the United States.

View 

Shipping Information

 and select your desired delivery date at checkout.