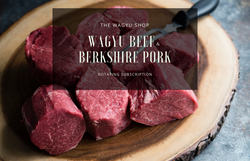 The Wagyu Shop
Premium Wagyu & Berkshire Pork Subscription
Indulge in balanced texture and unmatched flavor with Premium Wagyu & Berkshire Kurobuta Pork. Experience new dishes with rotating assortments sent on a recurring basis.
Premium Wagyu and Berkshire Kurobuta Pork.
At least 3 different cuts in each shipment.
Temperature controlled standard overnight shipping.
This product ships frozen.
Thawing is normal during shipment.
Product of the United States.
Subscription may be canceled at any time.